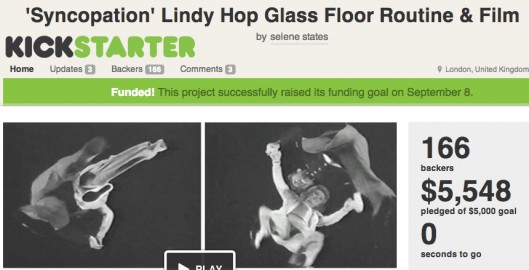 The Kickstarter Project to fund Syncopation's glass dance floor was successful! We managed to raise $5548, exceeding our £3000 goal. I would like to thank everyone for supporting project through Kickstarter!
Whether it was pledging just a few dollars or a generous sum, sharing the link on facebook or twitter, forwarding the press release e-mails, giving advice on the glass floor design and production, or just generally cheerleading the cause, THANK YOU SO MUCH!
The funds will go to building the  largest plate glass dance floor since the Groovie Movie shots were taken in the early 20th century. Each contribution ensures the  construction and installation of the glass floor's steel frame and scaffolding so that our dancers Moe Sakan and Remy Kouakou Kouame can safely perform their routine.
In case you missed out, here is the video blurb that was part of the campaign. We are still fund-raising for the rest of the project, so if anyone has deep pockets or loose change, and you like the project, get in touch!
http://www.kickstarter.com/projects/1483330478/syncopation-lindy-hop-glass-floor-routine-and-film.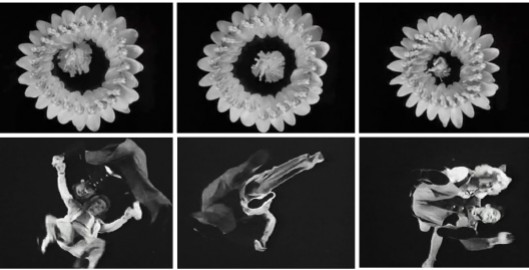 The project Syncopation assembles a group of visual art, dance and film makers to create a 16mm film installation showing a partnered Lindy Hop routine shot once from above, and once from beneath a plate-glass floor. The routine will be performed once in an authentic 1940's style and once inflected with subtle contemporary adaptations, drawing on precursors such as Busby Berkeley's 1930s illusionist choreography created for aerial viewing, and Francis Picabia's 1924 Surrealist film Entr'acte, and Will Jason's 1944 cult classic short Groovie Movie, both of which use dancers' footwork shot from beneath a glass floor. The film installation will run in a figure-eight film loop through two projectors directed at the floor and ceiling (or opposite walls, as below) through which viewers can walk, prompting critical reflection on the contemporary nostalgia for and reinterpretation of inter-war cultures.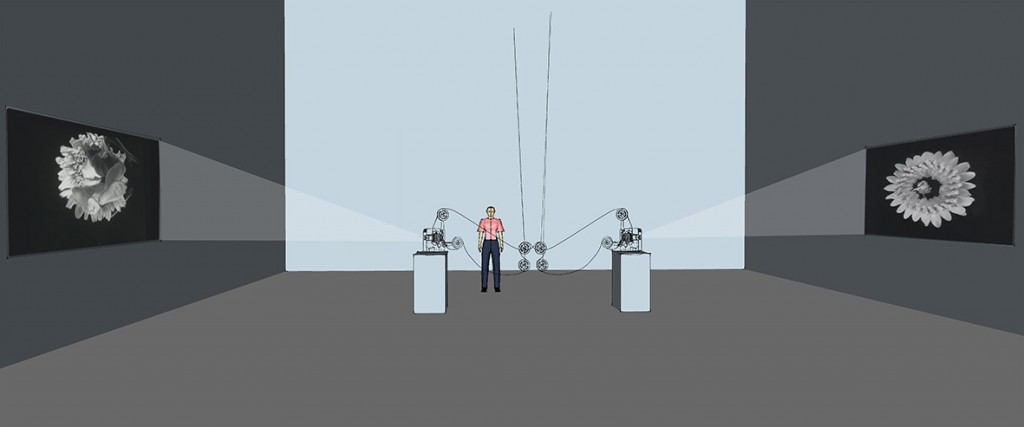 Syncopation engages with the history of appropriation,assimilation and exchange of African-American swing and jazz, which shaped the first known instance of global youth culture in the 1940's. In Groovie Movie, the narrator explains how the moves of white jitterbugs evolved from the waltz and curtsy, omitting their cultural origins to legitimize (and defuse) the threat of African-American jazz as it exploded in dance halls all over the world. This project cultivates a critical awareness of how the revival of swing and 'vintage' dance styles continues to transpose and transform the gestures, styles and idiosyncrasies of the Harlem Renaissance in the cultural and political landscape of contemporary Britain. Bringing together very diverse cultural backgrounds (each of which encountered, absorbed and adapted swing dance in the 1940's: American, Afro-Carribean British, Japanese and French Noir), the team will develop a critical exchange about the history of swing dance and its contemporary relevance.
Syncopation is a collaborative project led by visual artist Selene States (myself), working with a highly experienced team including world-renowned swing choreographer Ryan François (Choreographer for Swing Kids, and Strictly Come Dancing), award-winning cinematographer Tim Sidell (Shezad Dawood's Feature, Emily Wardill's Without Game), and costume designer Lise Marker (Matthew Barney's Ren). The installation will be designed and 16mm equipment supplied by vintage film expert David Leister.
In our search for the boundaries between authorship and imitation, I am interested in a creative process of exhuming the signs of class, race, and culture from their multifarious incarnations through every-day somaesthetic practices of appropriation: repeating gestures, mimicking movements, staging oneself as the other, and re-enacting the past.