Syncopation Kickstarter Successful!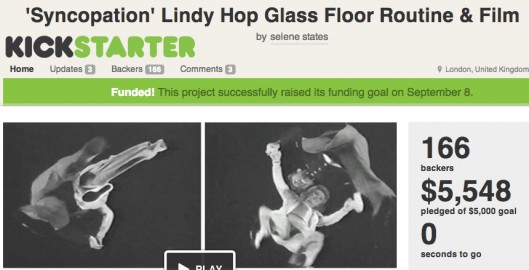 The Kickstarter Project to fund Syncopation's glass dance floor was successful! We managed to raise $5548, exceeding our £3000 goal. I would like to thank everyone for supporting project through Kickstarter!
Whether it was pledging just a few dollars or a generous sum, sharing the link on facebook or twitter, forwarding the press release e-mails, giving advice on the glass floor design and production, or just generally cheerleading the cause, THANK YOU SO MUCH!
The funds will go to building the  largest plate glass dance floor since the Groovie Movie shots were taken in the early 20th century. Each contribution ensures the  construction and installation of the glass floor's steel frame and scaffolding so that our dancers Moe Sakan and Remy Kouakou Kouame can safely perform their routine.
In case you missed out, here is the video blurb that was part of the campaign. We are still fund-raising for the rest of the project, so if anyone has deep pockets or loose change, and you like the project, get in touch!
http://www.kickstarter.com/projects/1483330478/syncopation-lindy-hop-glass-floor-routine-and-film.